What is the current market status of the "video laryngoscope" with a 100% success rate of intubation?
author: SP IMAGE
2022-04-21
Every year in China, it is estimated that 20 million general anesthesia procedures, 500,000 cardiac arrest patients, and about 1 million or more pre-hospital emergency patients require airway control, or tracheal intubation, to establish an artificial airway, which requires anesthesiologists to be proficient in this skill! However, difficult airway management is a major problem in anesthesia and it often occurs beyond our expectation. If tracheal intubation fails, it will be accompanied by difficulty in mask ventilation and failure to improve oxygenation, which can lead to serious consequences. Once the difficult airway occurs, relevant measures should be taken immediately to remedy it, among which the common remedial tools are basically: videolaryngoscope, fiberoptic bronchoscope, light stick, visual light stick and supraglottic ventilation equipment. 
Clinical status of video laryngoscopy
What is the success rate of different remedial tools? Professor Michael F of the Oregon College of Life Sciences, USA, et al, joined forces with seven major medical centers across the United States to conduct a retrospective analysis of difficult airway management.
The study collected 1427 cases of difficult airway encountered in 346,861 intubated patients from 2004 to 2013, and the requirements to be met for final inclusion in the study included that the patients were all adults, the initial tracheal intubation was performed using a plain laryngoscope, and the intubation was unsuccessful, so a remedial strategy of tracheal intubation with a remedial tool was attempted.

The study concluded that after failed common laryngoscopic tracheal intubation, the success rate of video laryngoscopy among the remedial tools was 92%, significantly higher than supraglottic tracheal tube (78%), fiberoptic bronchoscope (78%), light rod (77%), and visual light rod (67%). The use of video laryngoscopy caused few adverse effects, and in addition the study found that more operators, would prefer video laryngoscopy after failed intubation (69%), and this was particularly evident in the recent data (Figure 1).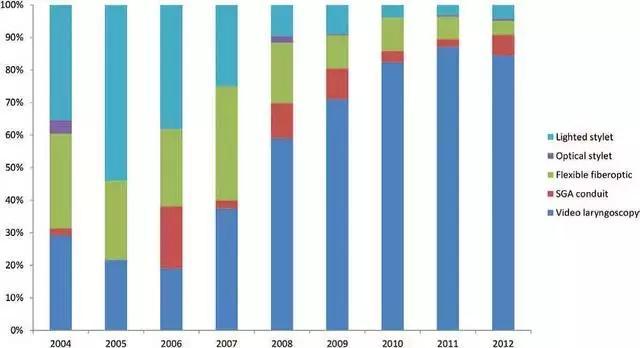 As time goes by, the use of video laryngoscopes has increased each year, while the use of other tools has gradually decreased. Video laryngoscopes are used not only for difficult airways but also for routine airways, and in the future video laryngoscopes will likely completely replace general laryngoscopes.

Especially in the emergency department and pre-hospital emergency setting, where the incidence of difficult airway is relatively high, and the operators are inexperienced or non-professional in airway management, there is a greater need for video laryngoscopes with high success rate of intubation and easy portability to operate.

In clinical application, the one-time intubation success rate of video laryngoscope can reach 100%, and the time spent is only 23.1s. In contrast, the clinical application effect of fiberoptic laryngoscope is average, and the one-time intubation success rate is only 47.4%, and the time spent is three times that of video laryngoscope.
The economic benefits of video laryngoscopy
How much benefit can be created by the video laryngoscope with such favorable future prospect?For the dealer partners, the sale of video laryngoscope not only profits from the equipment, but also from the supply of consumables at a later stage; in addition, for medical institutions, the annual departmental revenue can reach up to several hundred thousand yuan. Here video bend laryngoscope as an example, its use needs to be accompanied by single-use blades for consumables, consumables of different sizes and specifications.

  ① Medical institutions equipped with ambulances
  ② Medical institutions with anesthesiology, emergency medicine, ICU, neonatology, cerebral surgery, respiratory medicine and other departments
  ③ Public primary hospitals (health centers, community service centers)
  ④ Beauty institutions that can do surgery
  ⑤ Field rescue units
  ⑥Medical units and scientific education units that can do surgery
  
  How to choose visual laryngoscope?
Shenzhen Sanping Image Technology Co., Ltd. is a Shenzhen high-tech enterprise integrating R&D, design, production and sales of OEM/ODM and visualization solutions for medical and industrial endoscopy-related products. And passed ISO13485 medical device quality management system certification and FDA, NMPA and other certifications.
Combining Taiwan's strong technical precipitation and more than 20 experienced engineers' resources in Shenzhen, Sanping independently develop and produce a series of innovative camera modules and stable image systems.

So far, Sanping have successfully developed and produced reusable and disposable bronchoscopes, laryngoscopes, ENT endoscopes,
ureteroscopes and hysteroscopes for medical groups around the world.
 What are the specific features of Sanping's video laryngoscope?
  ①Safety
  Anti-shatter protection design display + anti-fog design lens + anti-bacteria design handle, safe to use
  Disposable lens with sterilized packaging, safe to use
  
  ②Fast
  Can be inserted without preheating
  Quickly replace a variety of lens specifications

  ③High definition
  3.5-inch full-view, non-glare display, wide field of view, eliminating blind spots
  2.0 megapixel CMOS camera, sound door clearly visible
 
  ④Portable
  Repeatedly rechargeable lithium battery design, single charge can be used continuously for 4H
  One key to record classic intubation cases, convenient for teaching and research
 
  ⑤Economy
  Disposable lens design, cost saving

(Refer from "Belden Medical")